Botanic Art Greeting Cards
Greetings cards of the Gallery paintings are available in gift packs of 4 hand tied together or individually. All cards are printed on hand torn watercolour paper and are cellophane wrapped with envelopes.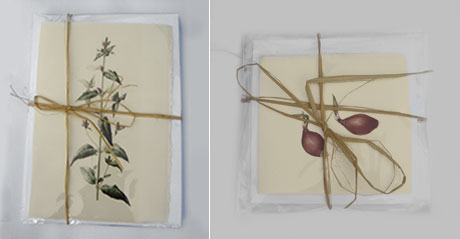 Postage and packing costs £2.25 in the UK (additional postage charges may be applied to overseas orders). FREE DELIVERY on orders over £30.00.
There are two sizes available (sizes will vary slightly due to hand tearing process):
REGULAR 14.5cm x 10.5cm - Please choose from Plants with Animal Names Pack 1 (1st 4 gallery images), Pack 2 (2nd 4 gallery images),Eryngium series or Plants bearing Toxic Fruit (both mixed packs of 4 images) - £7.00 or Individually £1.90 each
Code
Name
Price
Quantity
Order
SQUARE 9.5cm x 10.5cm - Please choose from New Shoots (2 of each), Plants bearing Toxic Fruit, Heuchera/Heucherella Leaf Studies ( both mixed packs of 4 images), Heuchera Portraits Pack 1 (1st 4 gallery images) or Pack 2 (2nd 4 gallery images) - £5.00 or Individually £1.35 each
Code
Name
Price
Quantity
Order